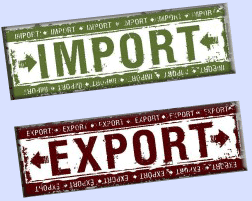 We offer you accurate & complete document preparation in accordance with the government regulations, letter of credit etc. We follow your instructions, if any. Our timely communication & service can ensure trouble free shipment. We have lot of satisfied inland & overseas customer. Our Watchful eyes track the traffic activity of the shipment from your door to the vessel & beyond. Our staff is trained & expert in the field of customs clearance, as well as all other service aspects of imports & exports.
We undertake consignments from MBPT, JNPT & International Airport in Mumbai. Mulund(E), Nagpur, Daulatabad, Aurangabad, BIPL Balalji Group, Dhigi Port Alibag Raigad, Dahanu Port Palghar, Dharamtar (PNP), Sanegaon (Revdanda Port), Dighi (Alibaug), for custom clearance of steam (Non Cooking Coal) in bulk.
Hazira Adani Port, Magdalla Port, Surat Customs House, Dahej, Bharuch, ICD Ankleshwer, Dahej, Bharuch, ICD Sachin & ICD Kribhco, Kandla Mundra, Gandhidham, Sabarmati, Khodiyar, Ahmedabad Airport, Vapi, Dholera, Dholera Sir, Nargol Port, Mbergaon, Vansi Borsi, Navsari, Tughlakabad (TKD) New Delhi.
We are expert in clearance of Tank & ISO Tank Containers, General Containers, Break Bulk Dry Cargo, Break Bulk Liquid Cargo, Project Cargos, Capital Goods, Plant & Machinery, Power & Telecom Accessories, Second Hand Machinery, Spare Parts, Scrap, Coal, Pharmaceutical, Agriculture and Consumer Goods.. Hazardous Haz Cargo, Perishable, Reefer Container.
Freight Forwarding and Shipping Agent
We provide liner agency, port agency, freight forwarding, RORO shipping, trucking and warehousing services to a wide range of blue chip companies and SMEs across various sectors. We pride ourselves on the valuable network of worldwide partners we have built up over the past many years. With offices at all main Indian ports and also in allover worldwide agents and representation at major ports worldwide, you can be sure that we will meet your needs and exceed your expectations by delivering an enhanced range of supply chain management and value added services at both origin and destination.
Bulk & Break-bulk Cargo
Bulk and Break bulk are two terms that are being used incorrectly and interchangeably during the course of day to day business. These terms cannot be used interchangeably because there are distinctive differences between Bulk and Break Bulk in terms of cargo, nature, size, capacity, handling, trade, customers, ports, terminals, equipment, infrastructure etc.
Project Cargo - Heavy projects just got lighter.
Managing heavy lift projects requires special expertise, care and detailing. We have built a formidable reputation in Project Cargo Logistics and heavy lift shipments with our dedicated operations team who have a thorough understanding of handling cargo's with ports, customs and transport agencies. We offer innovative Project Cargo Handling solutions as well as technical engineering services to manage the project completely from start to finish, ensuring timely delivery of your valuable goods.
Tank Container
Shipping goods right across the globe is always an overwhelming task, just because of the sheer volumes to be shifted. Be it grain, raw material, iron ore, vehicles or machinery, but it gets infinitely more challenging when the cargo comprises liquid bulk " and hazardous material. Not to mention financially challenging.
Thanks to our Logistics understanding of Tank containers, liquid bulk and hazardous cargo can now be shipped in and out of Indian shores more economically and efficiently.
Tank Containers ensure carriage of liquid cargo be it hazardous, non-hazardous or different specific gravities and it replaces the requirement of barrels/drums and ensures higher loadibility.
Perishable Reefer Container
With temperature-sensitive cargo the need for a reliable and experienced logistics partner becomes even more critical. When temperatures have to be constantly maintained above or below freezing, every stage of the shipment needs to be carefully planned.
Our experience with climate controlled cargo and climate controlled storage enables us to work with you to optimise your logistics needs. We provide refrigerated freight transportation services as and where you require them, whilst our expert teams help you utilise the most cost-efficient and swiftest routings.
Hazardous Haz Cargo
We have extensive experience in packaging and transporting hazardous material Via Sea, Air and road transportation. The company can arrange pickup and delivery from all major trading centers throughout the world. We are efficiently backed by a knowledge based team updating with government regulation worldwide.
No dangerous goods can be loaded on vessel freighted by us without prior acceptance of Dangerous cargo by carriers who will issue acceptance confirmation so that there is safety of cargo of our client and also others loaded on vessel and secure our clients for any kind of penalties for sending cargo without proper acceptance of the carrier. Acceptance of hazardous cargoes does not relieve shipper so we take due care in stuffing, custom clearance, loading of the cargo on vessel, and till the cargo reaches at destination.